RC Aircraft Hangers


​​RC Aircraft Hangers are a great way to keep your Aircraft suspended and safe giving you more room. If it's just for display or to show off your favorite models or you need your planes up and out of the way because your fleet has grown, Ace Wing Carrier Custom Accessories will help you out.

All you need to do is find the studs or beams depending on your hanger, or where you would like to hang your Aircraft from so they are secure. You can hang them straight put them in a turn or have them diving as a display... Well leave you to the details :-)

RC Aircraft Hangers by Ace Wing Carrier are designed to hold and suspend your Model Aircraft up and out of the way because we know space is precious.

*One set in includes two hangers-one for the Front of the Aircraft and one for the Tail of the Aircraft. The front Hanger will be larger then the tail hanger.

*Easy to open Velcro closure keeps your RC Model secure and safe while hanging

*Each RC Hanger has steel rings to hang them from

*The inside has a soft lining to cushion your Aircraft

* These RC Aircraft Hangers can be used with all Aircraft Models, Planes, Scale Gliders...

We have a verity of colors to choose from and will list them here shortly.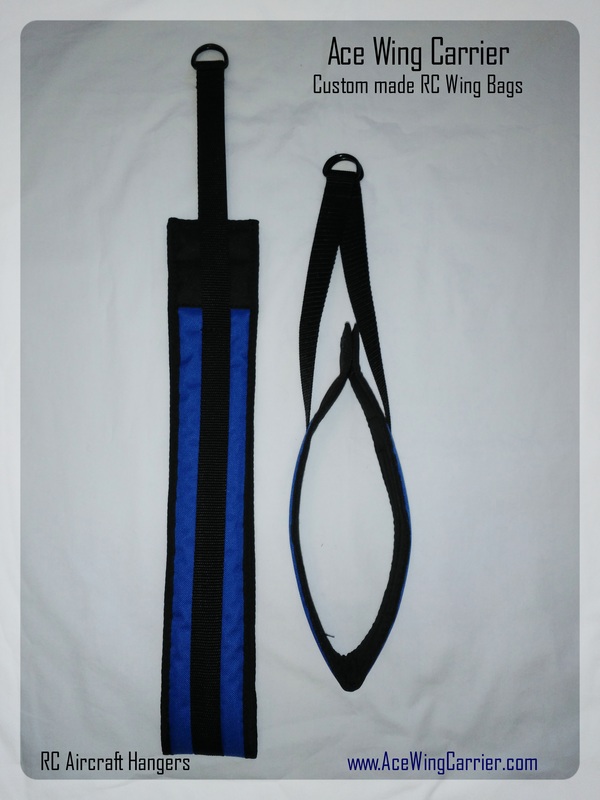 *Smaller Custom Sizes are also available-Please contact us for your size requirements*